Hôtels les plus proches de Monument Valley en 4x4
Kayenta
En zoomant/dézoomant la carte, de nouveaux hôtels apparaissent sur cette dernière.
★

★

★

The view hôtel

The view hôtel (photo ci-dessous) : Cher mais sublime. Toutes les chambres donnent sur Monument Valley ! Les réservations ne peuvent s'effectuer que sur le site de l'hôtel.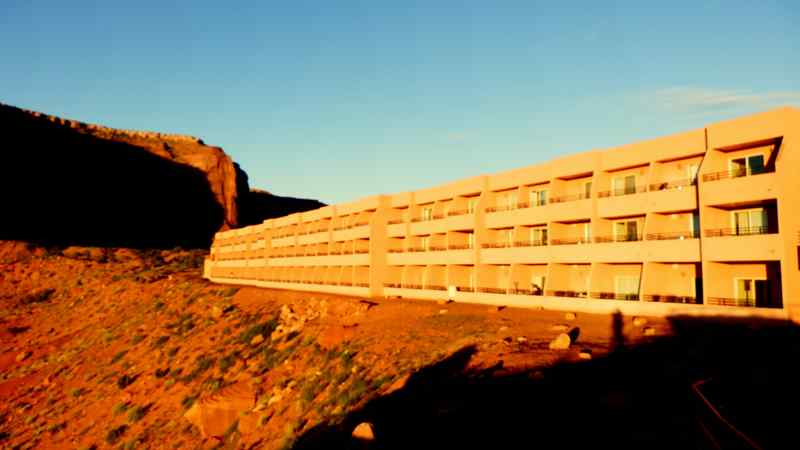 Crédit photo : Noel Reynolds - Attribution 2.0 Générique
Les "cabins" situées à côté du view hôtel n'offrent pas toutes la vue sur les buttes. Attention donc lorsque vous réservez. Pour être sur d'avoir la vue choisissez la formule Premium View, la seule à garantir une vue sans obstacle.
Quelques traductions concernant l'hébergement
| | |
| --- | --- |
| Lit simple | Twin size |
| Lit double | Double size |
| Grand lit double | Queen size |
| Très grand lit double | King size |
| Complet | No vacancies |
| Je voudrais réserver une chambre | I'd like to book a room |
| J'ai une réservation | I have a reservation |
| Je voudrais rester (X) nuit | I'd like to stay (X) nights |
| Mon nom est | My name is |
| Nom (de famille) | Last name |
| Prénom | First name |
| Y a t-il une chambre ? | Is there a bedrom ? |
| Un lit | Single room |
| Chambre disposant de 2 lits simples | Twin Room |
| Chambre disposant d'un lit double | Double room |
| Chambre disposant d'un lit Queen size | Queen Room |
| Chambre disposant d'un lit King size | King Room |
| Petit déjeuner compris | Breakfast included |
| Salle de bain | Bathroom |
| Je souhaite téléphoner | I woud like to make a phone call |
| Avez-vous une connexion internet ? | Do you have an internet connexion ? |
| Enfant | Children |
| Y a t il une réduction pour les enfants ? | Is there a discount for children ? |
| C'est combien par nuit ? | How much is it per night ? |
| A quelle heure devons nous liberer la chambre ? | What time is the checkout ? |
| Arrivée | Check in |
| Départ | Check out |
| Serviettes de toilette | Towells |
| Laverie | Laundry |
| Chambres disponibles | Vacancy |