Hôtels les plus proches de Las Vegas le Strip
Hôtels Las Vegas le Strip
Las Vegas le Strip
En zoomant/dézoomant la carte, de nouveaux hôtels apparaissent sur cette dernière.
Lieux à proximité
Calico Ghost Town Regional Park
,
Las Vegas
,
Grand Canyon-Parashant National Monument
,
Death Valley National Park
,
Joshua Tree National Park
,
Mojave National Preserve
,
Cathedral Gorge State Park
,
Gold Butte National Monument
,
Red Rock Canyon National Conservation Area
,
Lake Mead
,
Valley of Fire State Park
,
Snow Canyon State Park
,
Wet'n'Wild Las Vegas
,
Little Finland
Hôtels
Las Vegas le Strip
Las Vegas Fremont Street
Comme vous vous en doutez, il y a pléthore d'hôtels à Las Vegas. L'idéal étant ceux du Strip.
Trois bons plans partagés par la communauté :
Le Desert Rose Resort à Las Vegas Près du strip : Pour 2 nuits, suite avec 2 chambres, 2 salles de bains, cuisine complète + petit déjeuner pour 150€ les 2 nuits en aout.
Primm Valley Resort - Sur la Highway 15 en direction de Los Angeles : A environ 50 miles de Las Vegas. C'est un complexe avec hôtels-restaurants-casinos-outlet-station service. Certains jours en semaine, la chambre est à 25 $. La chambre est nickel. Il y a une piscine et un grand 8 qui tourne autour de l'hôtel.
L'Excalibur 3850 boulevard South : Hôtel Casino à Las Vegas. Si vous tombez sur une période de promo, vous pourrez avoir une chambre pour 25 € !!!
Eviter week-ends (plus chers).
×
Votre Attention SVP
Dans la plupart des hôtels, il faut ajouter au prix de la nuitée des frais de séjour d'environ 20 dollars par nuit et par personne. Pensez aussi que les Week-Ends ou en été les check-in (heure à laquelle vous pouvez prendre possession de votre chambre), sont parfois longs.
Hôtels du strip
Hôtel Stratosphere :

Hôtel Circus Circus :

Hôtel Wynn Las Vegas :

Hôtel Treasure Island :

Hôtel The Venetian :

Hôtel Mirage :

Hôtel Caesars Palace :

Hôtel Bellagio :

Hôtel Paris Las Vegas :

Hôtel Planet Hollywood :

Hôtel Monte Carlo :

Hôtel MGM Grand :

Hôtel New York-New York :

Hôtel Excalibur :

Hôtel Luxor :

Mandalay Bay :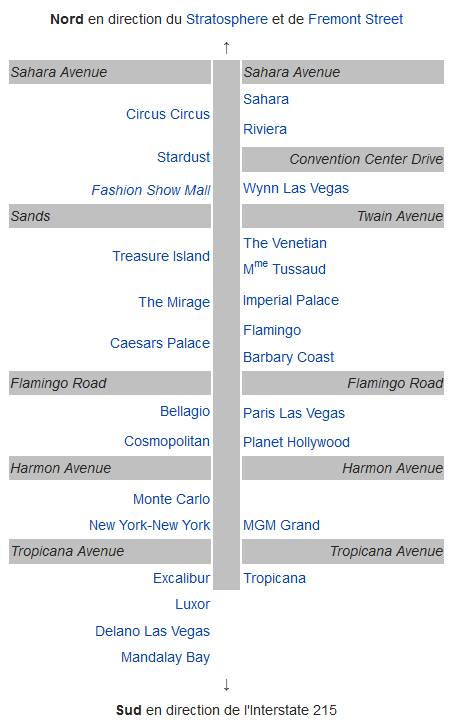 Schema des principaux Hôtels/Casinos sur le Strip
NB : Les prix ci-dessous sont donnés à titre indicatif.
Hôtels 5 étoiles
Aria (en semaine, à partir de 120€ et week-ends à partir de 180 €. Casino de 14 000 m²)
Bellagio (en semaine, à partir de 150€ et week-ends à partir de 200 €. Casino de 10 800 m²)
The Venetian & Palazzo (en semaine, à partir de 120€ et week-ends à partir de 180 €. Casino de 11 000 m²)
Wynn et Encore (en semaine, à partir de 150€ et week-ends à partir de 190 €. Casino de 17 200 m²)
Hôtels 4 étoiles
Le Caesar's Palace (en semaine, à partir de 80€ et week-ends à partir de 150 €. Casino de 15400 m². Pas de frais de séjour.)
Mandalay Bay (en semaine, à partir de 100€ et week-ends à partir de 140 €. Casino de 12 000 m²)
MGM Grand (en semaine, à partir de 50€ et week-ends à partir de 80 €. Casino de 16 000 m²)
MGM Signature (en semaine, à partir de 70€ et week-ends à partir de 130 €.)
Paris Las Vegas (en semaine, à partir de 75€ et week-ends à partir de 120 €. Casino de 7 900 m². Pas de frais de séjour.)
Rio (en semaine, à partir de 40€ et week-ends à partir de 90 €. Casino de 11 000 m². Pas de frais de séjour.)
Hôtels 3 étoiles
Excalibur (en semaine, à partir de 25€ et week-ends à partir de 60€. Casino de 9 300 m²)
Luxor (en semaine, à partir de 50€ et week-ends à partir de 80€.)
Stratosphere (en semaine, à partir de 25€ et week-ends à partir de 40€. Casino de 7 400 m²)
Quelques traductions concernant l'hébergement
| | |
| --- | --- |
| Lit simple | Twin size |
| Lit double | Double size |
| Grand lit double | Queen size |
| Très grand lit double | King size |
| Complet | No vacancies |
| Je voudrais réserver une chambre | I'd like to book a room |
| J'ai une réservation | I have a reservation |
| Je voudrais rester (X) nuit | I'd like to stay (X) nights |
| Mon nom est | My name is |
| Nom (de famille) | Last name |
| Prénom | First name |
| Y a t-il une chambre ? | Is there a bedrom ? |
| Un lit | Single room |
| Chambre disposant de 2 lits simples | Twin Room |
| Chambre disposant d'un lit double | Double room |
| Chambre disposant d'un lit Queen size | Queen Room |
| Chambre disposant d'un lit King size | King Room |
| Petit déjeuner compris | Breakfast included |
| Salle de bain | Bathroom |
| Je souhaite téléphoner | I woud like to make a phone call |
| Avez-vous une connexion internet ? | Do you have an internet connexion ? |
| Enfant | Children |
| Y a t il une réduction pour les enfants ? | Is there a discount for children ? |
| C'est combien par nuit ? | How much is it per night ? |
| A quelle heure devons nous liberer la chambre ? | What time is the checkout ? |
| Arrivée | Check in |
| Départ | Check out |
| Serviettes de toilette | Towells |
| Laverie | Laundry |
| Chambres disponibles | Vacancy |